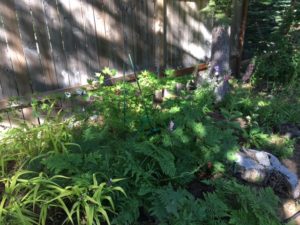 We believe a sustainable garden must be beautiful to look at, environmentally sound, easy to maintain, functional, and cost effective.   While most of the Tahoe Basin is made up of decomposed granite, we want to value the current soil. We work to preserve existing plants and conserve any material resources.  We also remember that water is a resource.
Consultation - Every garden is personal. In this initial meeting, we come to your house to get acquainted with you and your garden needs.
Follow-up outline - If we decide we are a good fit, we develop an outline of how the landscape may evolve, including budget and timeline.
Program development.  We measure, take photos, investigate and analyze the site, and ask lots of questions.
Conceptual plan - We provide a rough drawing of where the design is headed.  Together we make changes, if needed.
Final plan with recommended plant palette.
The plan will be ready to submit to contractors for bids.  We can help make recommendations, assist in bid facilitation, or let you run with the project.  We also provide project management of the landscape installation to ensure the project is developed according to your plan.